Team Borculo(NL) winning 10. Final AviRIngs Derby OLR with 75% Eijerkamp pigeon
Team Borculo now already 2 years in a row successful in Derby Avirings OLR in Slovenia as they had the 3rd Ace pigeon in the 2021 edition and now in 2022, they won 10th prize in the final race. Team Borculo was founded after a nice and cozy evening between Team Stevens (father Roel and son Roel) and the partnership Gerrit and Adwin Tjoonk (Tjoonk and son) both from Borculo, a small place in the east of the Netherlands. The pigeon was bred at the loft of Team Steven and is 75% pure Eijerkamp from the Eijerkamp-Van Loon, Heremans-Ceusters- and Olympic Hans"Olympic Hans" lines.

"Derby Ché" winner 10th Final 2022
NL22-8133242 "Derby Ché" is winner of the 10th final in the 2nd edition of the Derby Avirings.
The final race was again a tough race and the remaining 602 pigeons were released at 7.20 hrs. in Hungary to cover a distance of 520 km to reach the lofts in Odranci. Team Borculo scored 10th position and clocked their "Derby Ché" at 15.10 hrs. with a velocity of 1,108 m.p.m.




The father, NL21-1668858NL21-1668858, is direct Hans and Evert-Jan Eijerkamp and bred from "Kalypso" X "Mirna". "Kalypso" is son of Olympic Hans"Olympic Hans", winner 7x 1st incl. 1st NPO Chateaudun, when paired to Alexis"Alexis" who was crowned 8th National Ace pigeon One-Day long distance NPO in 2018. "Kalypso" is also grandfather to some other good performing pigeons in other One Loft Races worldwide. "Mirna" also is proven breeding daughter of "Claudio Ché" who himself was 1st National Ace pigeon Yearlings Allround WHZB in 2014.




The mother, NL19-1307679, bred by Arnold Paalman (nowadays racing in name Eijerkamp-Paalman) and is direct daughter for "Super 627", a great breeding- and racing cock for Arnold when paired to the NL18-1627655NL18-1627655, who is daughter of "Benjamin Jackpot" (last son bred from the Jackpot"Jackpot") X "Dorith" (daughter Rossi"Rossi"). The mother also is mother to the NL21-1569117 who was winner of the 3rd Ace pigeon in the AviRIngs Derby in the 2021 edition for Team Borculo.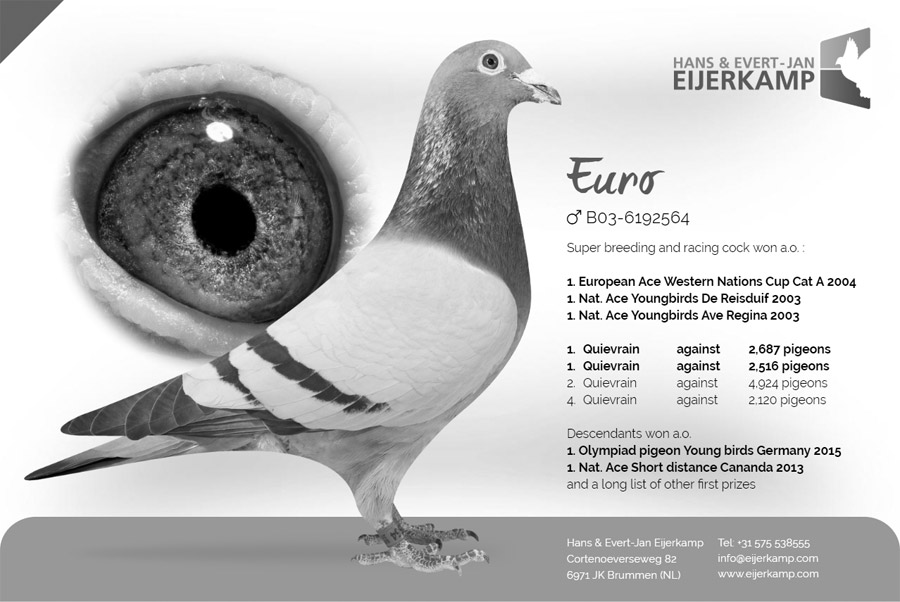 Super 627
NL2014-1635627
'Super 627'
is winner of a.o.
1. Acebird Allround CC de Graafschap
1. Acebird Middle Distance CC de Graafschap
1. Acebird Short/Middle Distance CC de
Graafschap
| | | |
| --- | --- | --- |
| 5. | NPO Issoudun | 2,152 pigeons |
| 11. | Quievrain | 4,878 pigeons |
raced at Arnold Paalman
'Super 627'
is father to
| | | |
| --- | --- | --- |
| 6. | Prov. Bierges | 6,198 pigeons |
| 5. | NPO Bourges | 3,571 pigeons |
| 7. | NPO Sens | 2,084 pigeons |
2. Prov. Acebird Natour Afd9 South
'Super 627'
is grandfather
10. Final AviRIngs Derby OLR 520 km
Hans & Evert-Jan Eijerkamp
Cortenoeverseweg 82
6971 JK Brummen (NL)Tel: +31 575 538555
info@eijerkamp.com
www.eijerkamp.com